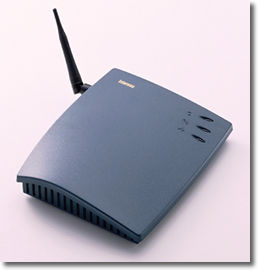 The 0100A AccessPoint provides a bridge between a wired Ethernet LAN and a wireless 2.4 GHz RF frequency hopping spread spectrum network. As a bridge, the 0100A passes industry standard communications protocols between Intermec 2.4 GHz RF end-devices and the Ethernet LAN. It connects directly into existing networks, thereby minimizing the cost of installing an RF infrastructure compared to other systems.

Intermec's 2.4 GHz RF network has a throughput of 1.6 Mbps with the best coverage in the industry. It has been approved for sale around the world and can work in many new applications that need high speed and flexibility of wireless connectivity to Ethernet LANS. This international RF standard spread spectrum network does not require an FCC or DOC site license.




User Manual
Want to get the most from your Intermec 0100?
Did you know we have a large staff of programmers who can make our products work with any system, including yours?

Did you know we provide total solutions including complete, on-site integration services, as well as custom, semi-custom, and packaged software to lower your operation costs, increase your accuracies and maximize your bottom line?

Did you know you can click here to contact us for more information about the Intermec 0100 or any of our other products, services and software?


Intermec has discontinued production of this item. But don't despair! We can help you migrate to a modern replacement. Contact us for the details.




Our programmers can make the Intermec 0100 work with your existing system. Contact us to learn how.


For information about Intermec support services, Click here.