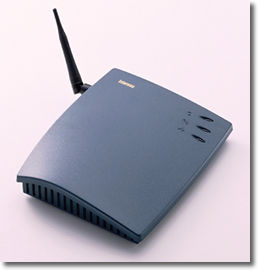 The Intermec Model 0111 Ethernet Access Point provides standards-based connectivity from Ethernet wired networks to wireless WLI Forum OpenAirô compatible products.

With superior range, outstanding performance, comprehensive management features, easy installation, exceptional durability and reliability, the Model 0111 Ethernet Access Point meets the most demanding requirements for industrial-strength wireless networking equipment.

It has direct connection to 10BaseT/10Base2 Ethernet and up to 50% better range (depending on environment).

It is managed using the Ethernet wired interface, the wireless network, a direct serial link, or even a dial-up phone line (modem not included). You can configure, manage & upgrade access points without ever leaving your office.




Spec Sheet

User Manual
Want to get the most from your Intermec 0111?
Did you know we have a large staff of programmers who can make our products work with any system, including yours?

Did you know we provide total solutions including complete, on-site integration services, as well as custom, semi-custom, and packaged software to lower your operation costs, increase your accuracies and maximize your bottom line?

Did you know you can click here to contact us for more information about the Intermec 0111 or any of our other products, services and software?


Intermec has discontinued production of this item. But don't despair! We can help you migrate to a modern replacement. Contact us for the details.




Our programmers can make the Intermec 0111 work with your existing system. Contact us to learn how.


For information about Intermec support services, Click here.