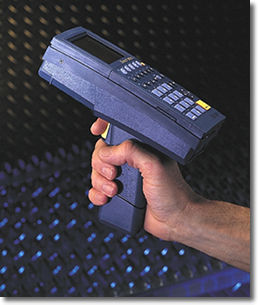 in stock

The JANUS 2020 combines a built-in scanner with all the features of the 2010 for single-handed data collection. Built to take anywhere, this intelligent, rugged portable lets you bring the power of your desktop to your worksite.

The JANUS 2020 is PC-AT compatible with a 386 micro-processor and runs Microsoft® DOS, making it easy to program using many off-the-shelf standard PC-based programs. Its industry standard PC card drive provides flexible expansion of memory or I/O capabilities so your 2020 can grow with you as your computing needs change. It is also available with a non-incendive rating for hazardous environments.

The JANUS 2020 portable has a large 16 by 20 backlit, high contrast, CGA-compatible display with virtual 25 by 80 display through windowing. There is no need to shift for alpha characters with its 54-key alphanumeric keypad. A large 36-key keypad is also available.




Spec Sheet

User Manual

4MB Addendum
Want to get the most from your Intermec 2020?
Did you know we have a large staff of programmers who can make our products work with any system, including yours?

Did you know we provide total solutions including complete, on-site integration services, as well as custom, semi-custom, and packaged software to lower your operation costs, increase your accuracies and maximize your bottom line?

Did you know you can click here to contact us for more information about the Intermec 2020 or any of our other products, services and software?


Intermec has discontinued production of this item. But don't despair! We can help you migrate to a modern replacement. Contact us for the details.




Our programmers can make the Intermec 2020 work with your existing system. Contact us to learn how.


For information about Intermec support services, Click here.