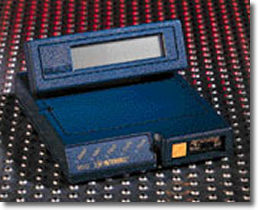 in stock

The 9511, with optional display, provides on-line interaction with your host computer. Featuring a 16-bit microprocessor, the reader can be used for either laser or contact scanning. Prompts and scanned data are viewed on the 32-character LCD display. The adjustable tilt display allows the unit to be wall or table mounted with easy viewing in either position.

The 9511 has been programmed to read and autodiscriminate between the major barcodes. Information that is not in barcode form can be entered through Intermec's Model 1700 keyboard.

The 9511 can be connected directly to a host compouter port or up to 140 devices can be networked to your host via an Intermec Multidrop Concentrator. In addition, up to 10 Intermec 9191 Satellite Wand Stations can be routed to one reader. Interfaces include RS-232-C, RS422, and four-wire RS-485 multidrop.




Spec Sheet
Want to get the most from your Intermec 9511?
Did you know we have a large staff of programmers who can make our products work with any system, including yours?

Did you know we provide total solutions including complete, on-site integration services, as well as custom, semi-custom, and packaged software to lower your operation costs, increase your accuracies and maximize your bottom line?

Did you know you can click here to contact us for more information about the Intermec 9511 or any of our other products, services and software?


Intermec has discontinued production of this item. But don't despair! We can help you migrate to a modern replacement. Contact us for the details.




Our programmers can make the Intermec 9511 work with your existing system. Contact us to learn how.


For information about Intermec support services, Click here.