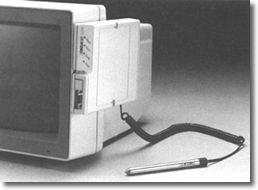 The Intermec 9570 Wedge Reader, engineered specifically for the IBM environment, works with a number of IBM and IBM-compatible workstations. This gives you important flexibility within those work areas where many different work-stations are used.

By scanning a software configuration label and changing an external cable, you can easily move the wedge reader between workstations.


Want to get the most from your Intermec 9570?
Did you know we have a large staff of programmers who can make our products work with any system, including yours?

Did you know we provide total solutions including complete, on-site integration services, as well as custom, semi-custom, and packaged software to lower your operation costs, increase your accuracies and maximize your bottom line?

Did you know you can click here to contact us for more information about the Intermec 9570 or any of our other products, services and software?


Intermec has discontinued production of this item. But don't despair! We can help you migrate to a modern replacement. Contact us for the details.




Our programmers can make the Intermec 9570 work with your existing system. Contact us to learn how.


For information about Intermec support services, Click here.