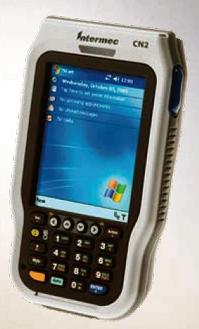 The CN2B combines the convenience of shirt pocket size for the ultimate in mobility, with all the ruggedness and reliability you've come to expect from Intermec, the number one supplier of rugged pocket PCs for the enterprise.

The CN2B, with either batch or local area radio connectivity is ideal for store operations/management applications within the retail industry. Additionally, the CN2B offers Microsoft® Windows Mobile® and Bluetooth® support, making it a good fit for field service, direct store delivery, or in-transit visibility applications. The CN2B is ideally suited for those applications that can run in near-real-time by connecting to a mobile phone when integrated WWAN capabilities are not required.

The CN2B shares the compact form factor of a commercial PDA, including singlehanded operation, the similarities stop there. The thoughtfully designed feature set is packaged to survive heat, humidity, and multiple drops to concrete or steel, allowing you to minimize your total cost of ownership. Research has proven that investments in rugged mobile computing devices versus commercial grade pay off in a lower total cost of ownership as early as two years into the life of the device.

This mobile computer relies on the proven, powerful combination of the Intel® XScale® processor with the Microsoft Windows Mobile® operating system to deliver a perfect balance of real-time data collection performance with full-shift power management functionality required by the application demands of retail store management and field sales and service. In addition, the CN2B relies on the Intermec's WiFi® certified 802.11 b/g radio, which ensures consistent performance by providing the best available wireless network throughput and reliability.

The CN2B leverages the Intermec EV10 linear scan engine with 3.3V low power operation to preserve battery life for mobile computing applications. With no moving parts and no laser diode, the EV10 has a longer life than any laser scanner (MTBF above 250Kh). The CN2B has received Cisco® Certified Extension (CCX) ensuring compatibility with a Cisco infrastructure.




Spec Sheet
Want to get the most from your Intermec CN2B?
Did you know we have a large staff of programmers who can make our products work with any system, including yours?

Did you know we provide total solutions including complete, on-site integration services, as well as custom, semi-custom, and packaged software to lower your operation costs, increase your accuracies and maximize your bottom line?

Did you know you can click here to contact us for more information about the Intermec CN2B or any of our other products, services and software?



Our programmers can make the Intermec CN2B work with your existing system. Contact us to learn how.


For information about Intermec support services, Click here.