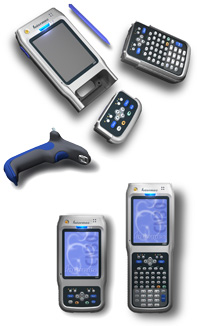 The CN30 establishes a new standard for retail enterprise mobile computing that maximizes flexibility, optimizes ROI and results in lower investment and supporting costs. Based on a compact modular concept that allows the user to change configurations according to user preference or application requirements, the CN30 features the most forward-looking industry standards and component selection that leads to the highest possible application versatility.

The 480 x 640 (full VGA)  display offers enough resolution to provide 4 times the content  of conventional "quarter VGA" displays so that web-based applications are far more portable and even "full screen" applications are possible to further increase user mobility.  One-touch backlight access and user selected light control make the CN30 equally suited to all lighting environments.

Along with display versatility, the CN30's Intel processor and Microsoft Windows Mobile™ operating system provide the power for an unmatched range of application possibilities from legacy terminal emulation (TE) and web browsers to full client-server and .NET developed applications.









Intermec has discontinued production of this item. But don't despair! We can help you migrate to a modern replacement. Contact us for the details.




For information about Intermec support services, Click here.