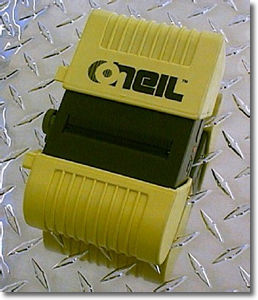 The microFlash3® printer from O'Neil meets the needs of a wide range of business, industrial, warehousing and law-enforcement applications. The microFlash3 is so small and lightweight that it can be worn on the belt all day without noticing it, yet so rugged that it can be dropped --again and again -- from a height of six feet (2m) to concrete without damage.

Imagine route management or field sales and service representatives being able to produce legible and personalized receipts in the field; law-enforcement officers printing out two-part citations fast and efficiently; or warehouse personnel generating pressure-sensitive "linerless" labels with no peel-off backing. It's all a reality with microFlash3, the Windows®-compatible portable printer that generates a full three-inch-wide (72mm) printout utilizing multiple fonts and sizes, bar codes, custom logos, graphics, and signatures.

The microFlash3 operates easily using wireless input and flash memory for simple updates in the field. It's small enough, lightweight enough and ergonomically designed to be worn without interfering with any job's rigorous activities. It activates when data is sent and automatically goes back to sleep when not in use. The microFlash3 also comes standard with IrDA-compliant wireless infrared communications technology. Data can be sent from a hand-held computer from up to three feet (one meter) away, without any cables to get tangled or damaged.

The microFlash3 is the first portable printer that uses a DR30 (GoldPeak) nickel-metal hydride battery. This battery is powerful enough for one charge to last through several shifts in most portable computing applications. Imagine getting over 300 feet (91m) of printouts on one charge! And recharging is easy with the standard internal three-hour quick charge. Recharge the printer on-the-go without removing the battery, using a standard cigarette lighter or AC adapter. An external charger is available with backup batteries.




User Manual


O'neil has discontinued production of this item. But don't despair! We can help you migrate to a modern replacement. Contact us for the details.