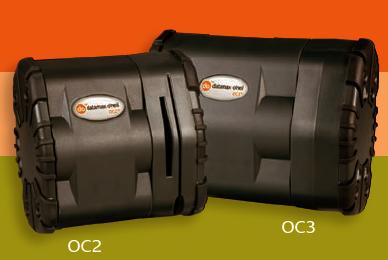 The OC3, the thermal portable printer model that prints label and receipt media up to 3.15 inches wide, has been designed to meet the continually expanding requirements associated with retail, hospitality, mobile POS, transportation, and field sales and services applications. The advanced features standard with the OC3 offer extreme adaptability to meet the unique and industry specific portable printing requirements demanded in today's evolving business environment. These features include wireless local area network or wireless personal area networking capabilities; high print quality, Flash memory, intelligent power management, and font and language flexibility.

Application Functions


Retail – Print price, markdown, and shelf labels via wireless LAN.

Mobile point-of sale and line/queue- busting - Print receipts and take payments with its integrated magnetic stripe card reader.

Hospitality - Eliminate long lines and improve your customer service with mobile check-in and check-out. Quickly take payment and issue receipts on the spot, perfect for order-taking at tableside.

Healthcare - Print labels for medications, patient charting, and specimen identification.

Law Enforcement – Generate citations to replace manual tickets.

Distribution and Transportation - Print bar code labels for pallets and deliveries. Create and issue boarding passes for passenger check-in. Take payment and issue receipts during in-flight meal service and shopping.

Field Sales and Service - Prevent driver delays and improve efficiency and customer service with the OC3's mobile receipt printing and transaction processing capabilities.
Wireless Printing

When wireless is a necessity, count on O'Neil to offer the most reliable solution. Our integrated 802.11b/g wireless local area network (WLAN) module connects the OC3 to your wireless network. Our Bluetooth® module offers the convenience of a wireless personal area network (WPAN), eliminating the need for mobile workers to return to their vehicle to print receipts or tickets. O'Neil was the first portable printer manufacturer to incorporate the Bluetooth protocol in Flash memory, eliminating the need for costly software and hardware upgrades whenever the wireless specification changes.

Power to Spare

The OC3's Lithium-Ion batteries offer maximum power capacity for a full 10+ hour shift, even under the toughest conditions. It can print as many as 861 – 6" receipts, on a single battery charge. Its automatic "sleep" mode saves power and the fast 3.5/4.5-hour recharging time, along with optional vehicle charger, provides an ideal solution for long and intense printing applications.






Spec Sheet
Want to get the most from your O'Neil OC3?
Did you know we have a large staff of programmers who can make our products work with any system, including yours?

Did you know we provide total solutions including complete, on-site integration services, as well as custom, semi-custom, and packaged software to lower your operation costs, increase your accuracies and maximize your bottom line?

Did you know you can click here to contact us for more information about the O'Neil OC3 or any of our other products, services and software?



Our programmers can make the O'Neil OC3 work with your existing system. Contact us to learn how.


Need labels or ribbon for your O'neil printer, click here to see our quality media products.