The Problem:
With no quick and easy way to verify the contents of their shipments, a major cookie manufacturer contracted Current Directions to design a modern solution to their problem. Their needs were clear. Develop an automated system to continuously monitor and verify the loading of thousands of cartons each day. Due to the nature of the product, the solution must add no additional time to the loading process, and be must be highly accurate and simple to operate.
The Solution: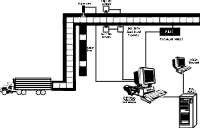 All product cartons were (previously) automatically labeled, both with human-readable and bar-code characters. An Intermec 9560 transaction manager retreives the customer's order information from the IBM AS/400 computer and displays the order requirements to the operators. When the operator indicates he is ready to load the order onto the truck, the 9560 reader sends an external signal to start the conveyor belt. It then sends another signal to control the pneumatic arm used to move cartons off the main conveyor if they do not belong on the order currently being loaded or if the carton is missing it's bar-code label.
An Intermec 9154 Crossbar controller was selected for its ability to integrate their existing IBM AS/400 to any combination of 32 Intermec bar-code devices allowing for future expansion. A high speed decoder receives scan data from two Microscan MS-1200 high speed bar-code scanners positioned on the conveyor line in the shipping department. The use of two scanners guarantees that all boxes will be read as long as the cartons are face up.
The Benefits:
All orders are accurately and easily filled. Load information is available in real time - even as the loading is in progress. All cartons that do not belong to the order or have problems with their label are removed without the need for any human intervention. The system expedites shipments, which is critical when dealing with a perishable product. The final result is better service for their customers, and greater speed, accuracy and control for the company.