The Goal:
A manufacturer of corregated materials wanted a way to track their customer's consigned stock usage. They wanted to more easily and accurately anticipate their client's needs so they could tailor their production schedule to their clients' usage.
The Solution: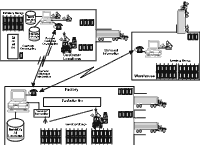 Customers need only a standard Windows PC, an Intermec Janus 2010 or 2020 hand-held computer with a communications dock in order to participate in this system.

Unique bar-code identification numbers are given to each location and package of product. The employee moving the product uses a Janus hand-held computer to scan the item and destination. All information is entered and verified by the program to insure accuracy, then transferred to a PC for later access via modem.
Areas where the products are actually used are called 'billing' locations. When stock is move to a designated billing location, the system automatically removes the item from the available stock and then generates an appropriate billing record. The customer also receives advanced shipment information the moment his order leaves the factory or warehouse. They scan the shipments as they arrive, giving the sender immediate confirmation of the cargo's arrival, and giving them confirmation of the contents. The vendor has accurate stock consumption information at any given time.
The company has access to all the customer's usage information on a regular basis, giving them new accuracy in producing bills, controlling production needs, anticipating customer usage, and inventory status.
The Benefits:
The company now has complete control of all consigned stock inventory, from the customers' storage to their use. Customer needs are known at the moment they are created. Headquarters now knows exactly when to bill a customer, and for how much. They can maintain smaller inventory overhead, and regulate production directly proportional to use. Customers are receiving accurate, timely shipping of needed product because the company can now accurately chart customer usage and plan accordingly. The end result - lower overhead, better billing, and improved customer service. It's enough to put a smile on any boss.